Refer your friends to SAMCO & get paid
every time they make a trade!
How does it work?
As a SAMCO client, for every friend & family member you refer, you earn 10% of their brokerage. For Life! And don't worry, we have not forgotten your friends either! Every referred friend gets 20 free trades! And for every free trade they make, YOU GET A FREE TRADE!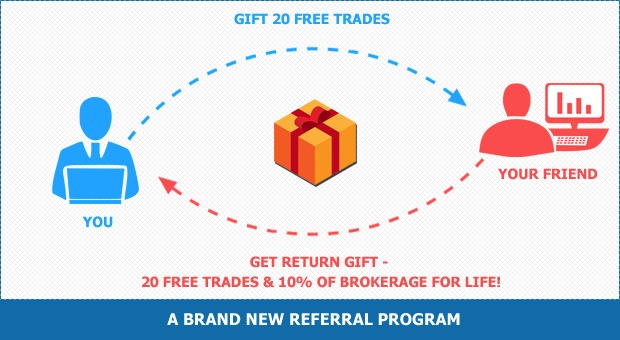 You can introduce AS MANY FRIENDS AS YOU WISH!
How much can you earn?
You can track your referral earnings in our back office and request a withdrawal which will be directly credited to your bank account.
Referred Clients
Trades Executed per Client
Earnings/Trade
Potential Earnings
Daily
Weekly
Monthly
Yearly
500.00
2500.00
11000.00
132500.00
How to refer friends?
Watch our video tutorial or enter their details in the Box Below & we will take care of the rest! It is as simple as that!
Refer a Friend
Fill out this form and give us your friend's details. And we'll do the rest.


Social Media Rock Star
Create a Unique referral link & share it anywhere! Any client using that link will be considered referred by you!